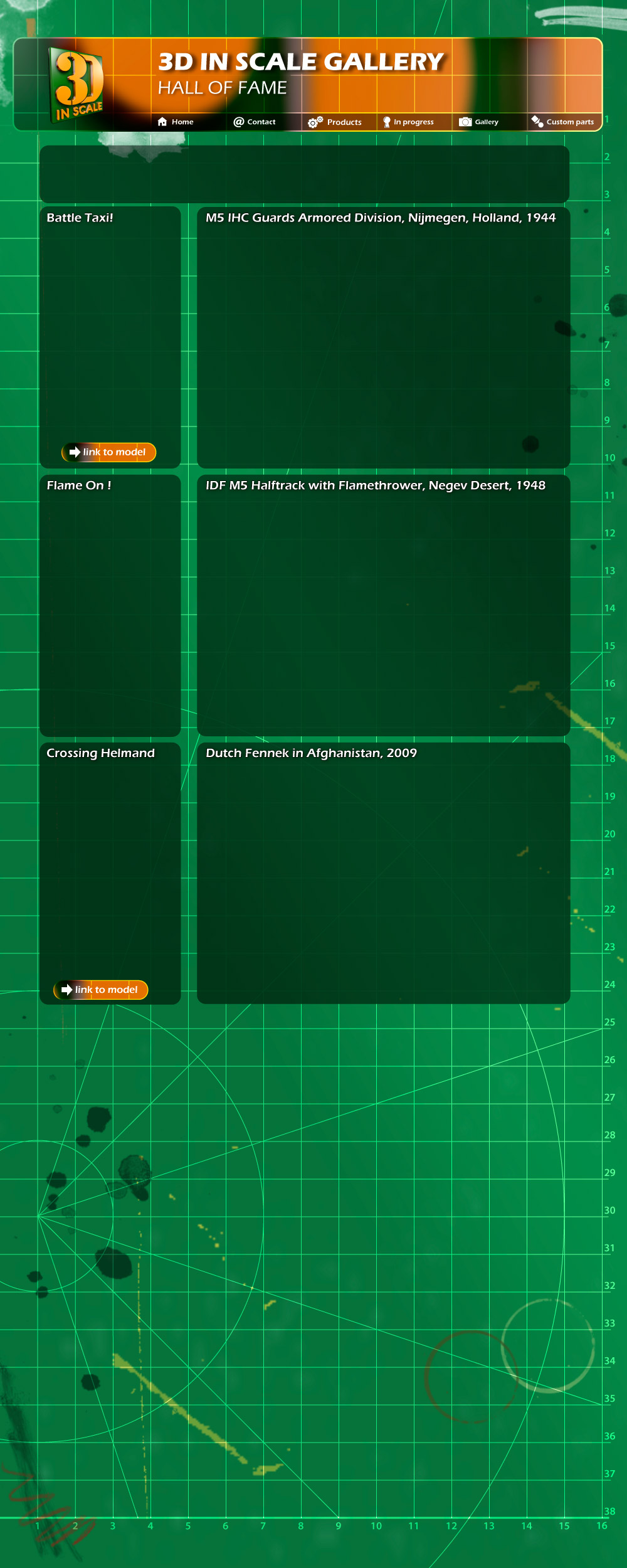 After a short rest in the fields around the main road from Gennep to Nijmegen the Guards Armored Division pulled out in three groups to Nijmegen. They wanted to take the bridges accross the river Waal.

1st Batalion, Grenadier Guards (Mechnized) of the Guards Armoured Division was a motorized infantry Batalion that was moved in US build M5 halftracks. A real armored Battle Taxi.

Build and painted by
Marcel Zwarts

This flamethrower was developed by the Israeli Defence Force. Sources say that at least two halftracks carried the weapon during operations in the Negev desert in 1948.

Basis kit: Dragon M2/M2A1

Build and painted by
Corné van Delen
This part of the website is open for modellers to show their effords of building 3D in Scale products. Just sent me an e-mail on info@3dinscale.com and your model may be displayed on this page. Please include pictures and a small description like the examples below.


The Fennek is a Dutch army reconnaisance vehicle deployed in Afghanistan under their ISAF mission and they are currently also deployed in the Republic of Mali.

Eric has built his own Fennek he drove in Afghanistan in 2009. The Trumpeter kit was heavilly modified. He asked 3D in Scale for help to create the Bar Armour. The final model is presented on a diorama base showing the Fennek crossing the Helmand river as Eric did many times.

Build and painted by
Eric de Graaf


Animation showing all the parts coming together becoming a M5A1 vehicle.

Made by
3D in Scale.
Animation showing the three 2S7 Pion interior sets in the Trumpeter model.

Made by
3D in Scale